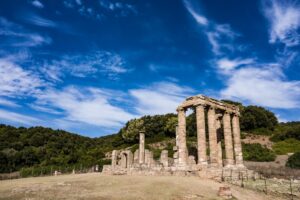 The archaeological area of Antas can be found in the territory of Fluminimaggiore in the southwest of Sardinia.
Its Nuragic village, dating back to 1200 B.C was brought to light during the excavation campaign in 1967. Among the findings were manufactured goods and pottery, iron tips and blades, melted down lead and glass and obsidian residue.
The most significant findings were three shaft graves in a north-south position. Used commemoratively as a cenotaph, one of the three tombs did not house the corpse of the deceased, it held the funeral trousseau. The other two each contained a corpse, more than likely in a standing or kneeling position.
The archaeological digs in 1967 uncovered the remains of a Carthaginian place of worship under the stairway of the Roman Temple.
The Carthaginian building was constructed around the end of the 5th century B.C. and was erected in honor of the Punic divinity Sid Addir Babay who personified the indigenous god worshipped in the nearby Nuragic sanctuary. A Tèmenos, or sacred barrier, was situated in the inside of the temple.
In the underlying stairway leading into the Roman building, we can see various architectural elements of the Punic sacellum, probably used as filling material after having lost their votive value.
The Roman entrance to the sanctuary was placed over the Carthaginian place of worship. Looking upwards, it is possible to see the Latin inscription on the architrave overlooking the four columns.
The first temple was in a bad condition when its restoration was planned under the instructions of Emperor Caracalla, as the Latin inscription reveals.
On the fourth landing lies the sacrificial altar complying with Roman standard rituals. The podium is about 20 meters long and is subdivided into three parts: Pronaos, Cella and Adyton Bipartito. About 7 meters in depth, Pronaos presents the tetrastyle prospect for the presence of the four frontal columns.
This splendid valley offers attentive visitors a historic and cultural aspect. Mystic sensations and an almost tangible sacredness were the emotions felt by long past peoples.